At the north of the Sukhbaatar Square, in a place of honor, there stands a statue of Great Chinggis Khaan and the State Palace. Scholars from various countries in the world have proclaimed Chinggis Khaan as the Man of Millennium, acknowledging that he was great organizer, diplomat, politician, and warrior who set up the legal system of Mongolia and played a decisive role in the development of foreign relations, economy and the art of war. Chinggis Khaan was born in 1169 and founded the Great Mongol Empire in 1206 that occupied almost half of the world.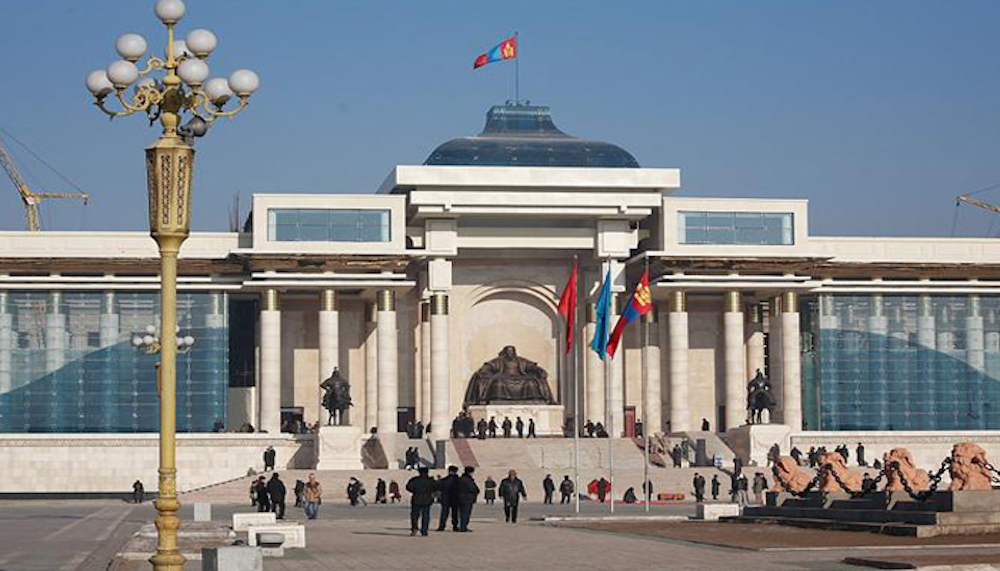 The ceremonial complex is home to statues of Great Khaans and equestrian knights, a glass walled gallery of art showcasing ancient states that existed on Mongolian land, in treasured works such as "Great Mongol State" and "The Empire". There is a complex monument in the form of sitting Chinggis Khaan with his successors and warriors in front of the State House. At its centre is a seated bronze Chinggis Khaan statue, ruling it over his nation. He is flanked by Ogedei (on the west) who is the second Great Khaan of the Mongol Empire by succeeding his father, and Khubilai (east) who is the grandson of Chinggis Khaan and the founder of the Yuan Dynasty, a division of the Mongol Empire. Two famed Mongol generals (Boorchi and Mukhalai) guard the entrance to the monument. In the pillared hall are the Nine White Banners, the Ger Palace for ceremonies, and the Mongolian Statehood History Museum. It's a must to visit the Mongolian Statehood History Museum to learn about the great 2,000-year-old tradition of Mongolian statehood. There are invaluable pieces such as symbols of statehood, the stamp seals of ancient kings, and the State Gerege exhibited.
Sukhbaatar Square,  is a popular place for city residents, not only travelers. If you watch closely, you can see and witness many interesting stories of the city played out here, such as teenagers riding bikes and rollerblading, guys hanging out on the thick chains hanging from the mouths of stone lions around the statue of Sukhbaatar, newly married couples posing for pictures, students celebrating graduation, or classmates coming together for reunions after 30 or 40 years. So many memories for Mongolians and unforgettable life moments are inseparably tied to this square. Sukhbaatar Square features a bronze equestrian statue of Sukhbaatar. D.Sukhbaatar was leader of people's revolution in 1921. Today, the square is the scene of major state ceremonies, cultural events, and exhibitions.