Mongolian Circus
The Mongolian Circus, which is a short walk away from the State Department Store, is open intermittently throughout the year. The National Circus of Mongolia was established in 1940. Through this legendary start, many of famous Mongolian artists' careers become known in world. You can eyewitness main 7 types of circus performances including acrobatics, gymnastics, juggling, tightrope walking, animal acts, clowns, and magic tricks, and maybe the highlight is contortionists. The Circus has performed in many different countries across the globe during the last several decades and well known by their powerful and amazing performances even including many Guinness Record holders for their abilities. You can see awesome and exciting artistic performance while in Ulaanbaatar that is recognized internationally.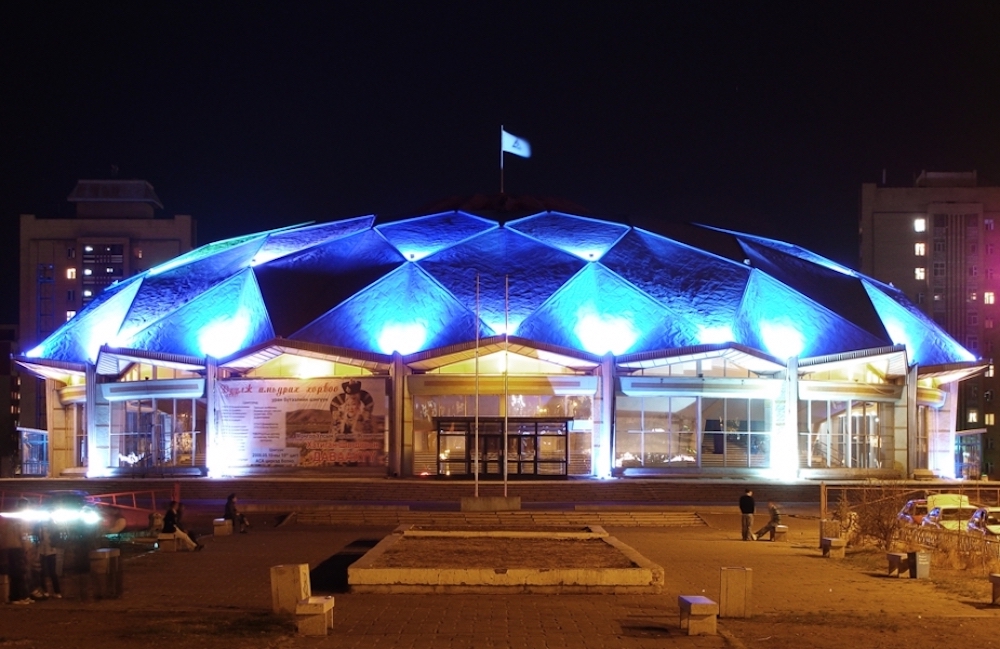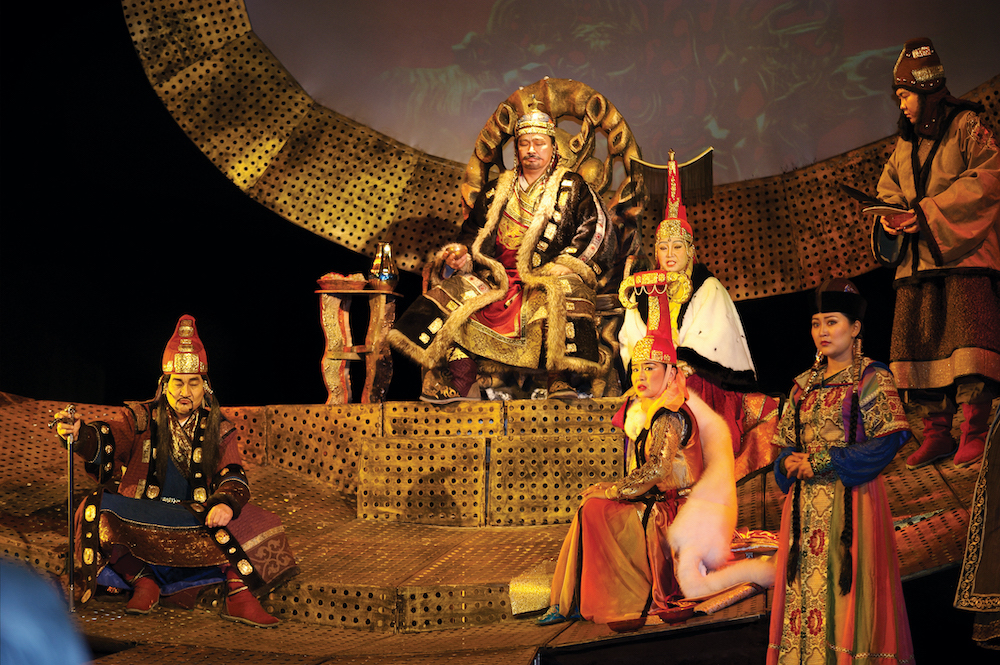 The state Academic Drama Theatre
The State Academic Drama Theater, with its red-colored building of classical design is located not far from Ulaanbaatar's central square. Mongolia has an ancient history of theatrical art. The birth of Mongolia's theatrical art can be traced to palace theaters and religious theatrical performances. In 1931, today's State Academic Theater Opera and Ballet was first founded as the State Central Theater. Famous Mongolian plays are performed on the stages of these theaters, along with world renowned operas, ballets, and plays performed by famous Mongolian and foreign artists. The repertoires of the two theaters, as well as the appearances by leading artists who perform at the world's largest classical competitions and festivals, are evidence that Mongolia's classical art has reached a high level today. You can truly satisfied with its both Mongolian and International famous performances in Ulaanbaatar.
Tumen Ekh Ensemble
Tumen Ekh Ensemble is Mongolian leading traditional song and dance ensemble featuring folk and traditional music, song, dance and contortion which is founded in 1989. Mongolia's traditional arts of long songs, throat singing, horse-head fiddle playing, and Mongolian folk dance have been registered with UNESCO's Intangible Cultural Heritage of Humanity. Even if you are not true fan of traditional art and performances, it is highly worthwhile to see the wonderful performances of contortion and folk dancing by Mongolian skilled artists, accompanied by horse-head fiddle playing and the singing of long songs. Throat singing and long song will help you to understand the uniqueness of Mongolian identity, their relationship to nature, and their understanding of human nature. Their daily concerts in Ulaanbaatar is must be in your Ulaanbaatar city travel lists.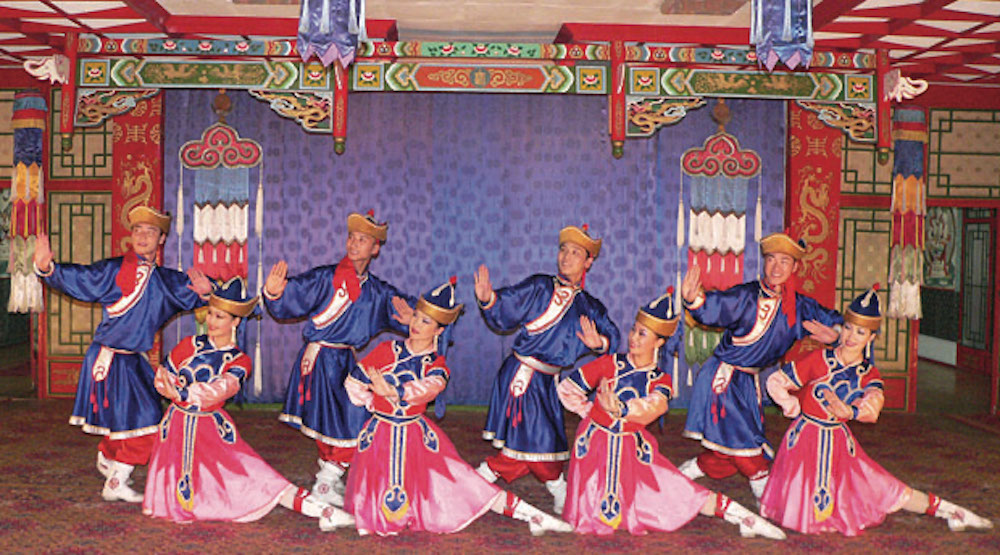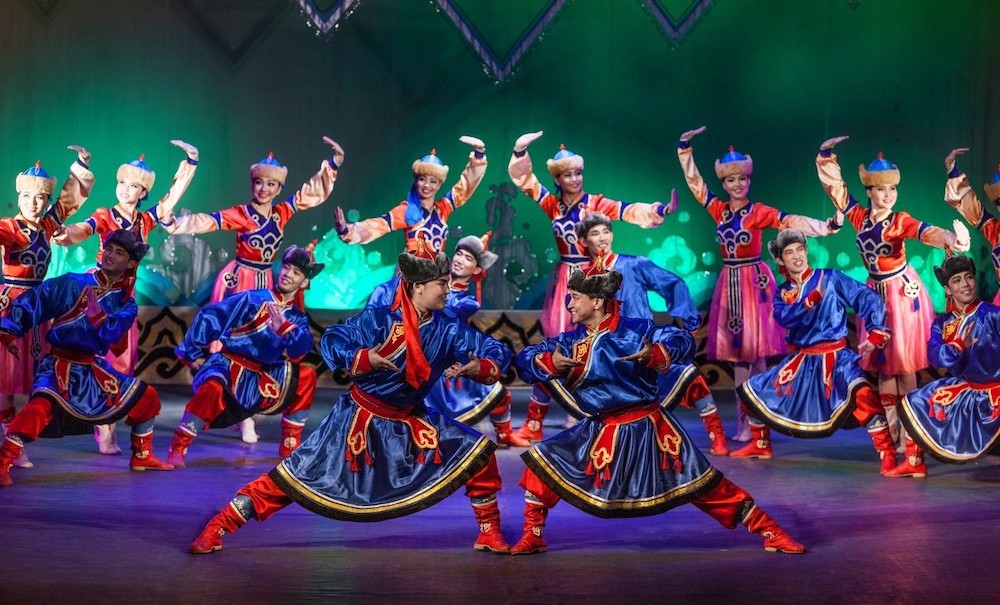 State National Song and Dance Academic Ensemble
National Song and Dance Academic Ensemble founded in 1945. As one of highlight performances in UB, you can explore are rich and endless heritages of ancient songs, music, dances and festivals among Mongolian nationalities. The Ensemble has not only been performing Mongolian National folk art heritages, but also performing the best classic and modern works composed by Mongolian and foreign famous artists. Also it has traveled over 200 countries and advertised the folk arts. Now this ensemble has more than 150 artists including over 60 musicians playing National Great Orchestra, a dance group consisting of over 50 dancers and over 30 singers. Most of them are rewarded Mongolian famous artists. This ensemble performs concerts for the guests of Ulaanbaatar city and their performances will take you to the peaks of the Altai Mountains soaring towards the sky, to the shores of the amazing Khuvsgul Lake and the immense land of the eastern steppes, and to see the exceptional and beautiful nature of the Southern Gobi. By coming to the performance you will become acquainted with the magnificence of Mongolian dance and see performances of long songs, throat singing, biyelgee dance, and contortion on the same stage.
Mongolia's Grand National Orchestra
Established during the reign of the Great Mongolian khans of the 13th century, the Mongolian Grand National Orchestra performs in accordance with strict order originating from ancient times. The current orchestra is unique, as it revives the music played during the state orchestral performances of the Yuan Dynasty. It can be said that melodies from the eighth century are heard when the orchestra performs. The Grand Orchestra performs during Mongolian state celebrations, ceremonies and for national diplomatic events. The Grand Orchestra is composed of nearly 80 musicians performing on traditional Mongolian musical instruments including morin huur (horse headed fiddle), ikh huur (grand fiddle), huuchir (two string instrument), shudraga (three stringed lute), yatga (zither or harp), flute, bishguur (woodwind instrument), trumpet horn, drums, cymbals and jolts.
Contact  : 11-323954, 99091502 , 99151300
Website: grandtheatre.mn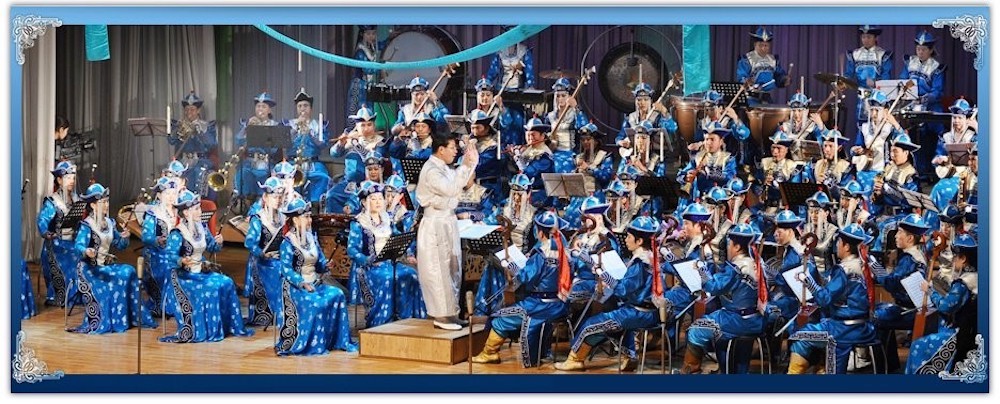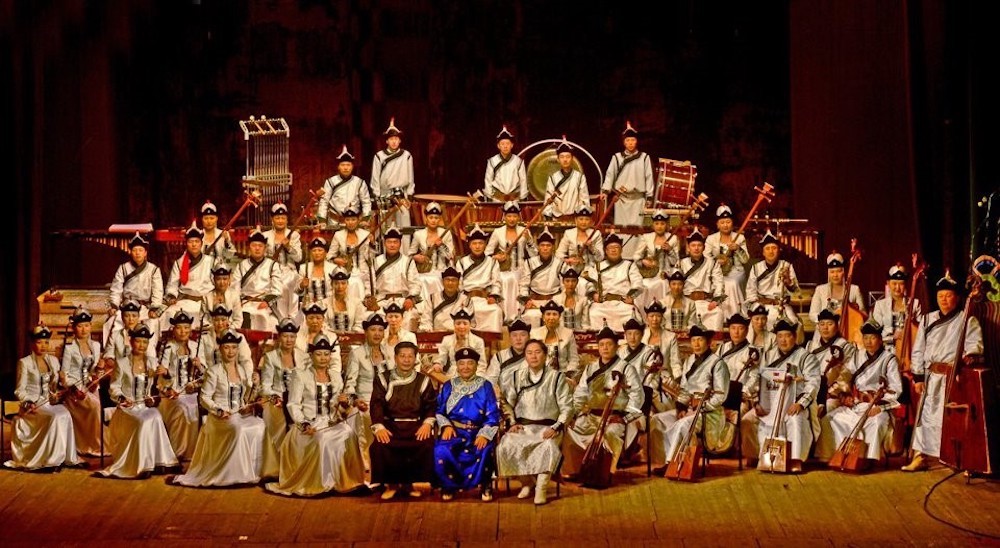 Mongolian State Morin Khuur Ensemble
The Mongolian State Morin Khuur Ensemble brings to the audience a refreshing sound from the vast Central Asian steppes through its wealth of traditional and modern repertoires. Founded by the Mongolian state in the early 1990s, the Ensemble has been at the forefront of musical revivals and staging top-notch music performances in the last twenty-five years. The mainstay of the Ensemble is the morin khuur—popularly known as the "horse-head fiddle"—a Mongolian national music icon. Vocalists of the Ensemble will sing a number of well-known songs in the Urtiin duu repertoire, including Erdene Zasgiin Unaga (The Foal of Erdene Province) and Tumen Ekh (Myriad's Leader). Singing in Mongolian music is famously realized also through Khuumii (Overtone/Throat Singing), where vocalists produce two or more pitches at the same time through the maneuvering of vocal resonance. The Ensemble not only make performance in Ulaanbaatar and domestic areas but also all over the world representing Mongolia on the stages of well¬ known international halls such as the Bolshoi Theater of Russia, the UNESCO Headquarters in France, Musikverein in Austria, the Palace of Nations in Switzerland, Berliner Philharmonie in Germany, and Suntory Hall in Japan
The State Philharmonic
The State Philharmonic, founded in 1957, is composed of three orchestras. They are the Philharmonic Orchestra, the Bayan Mongol band, and "Morin Khuur" Fiddle Ensemble. These groups play national and classical world music, as well as classical jazz, which expresses unlimited creative character. The State Philharmonic, introduction into symphony orchestra – founded in 1957 and you can enjoy their concerts in the comfort of your home. The "Bayan Mongol" Jazz Orchestra which laid the foundations for the Mongolian pop and variety arts was established by the guidance of Mongolian Honored Artistic Worker, composer, T.Chimeddorj in 1969. The "Morin Khuur" Fiddle Ensemble has had the wonderful experience of playing the world's most famous compositions with a traditional Mongolian musical instrument. This band's repertoire includes not only Bizet's "Carmen", but also the work of composers like Astor Piazzolla, Dave Brubeck, and Jorge Ben, who are already recognized as classic composers.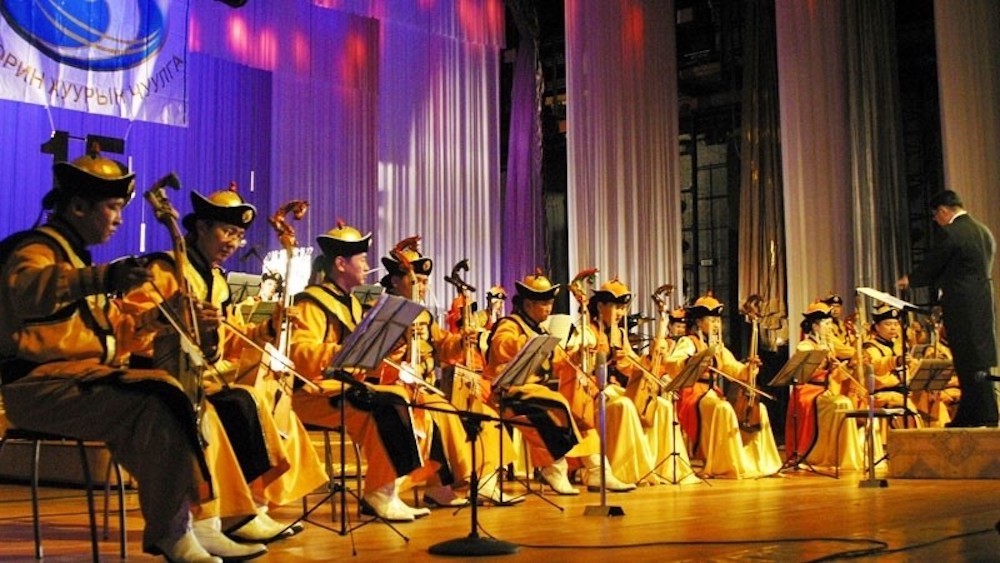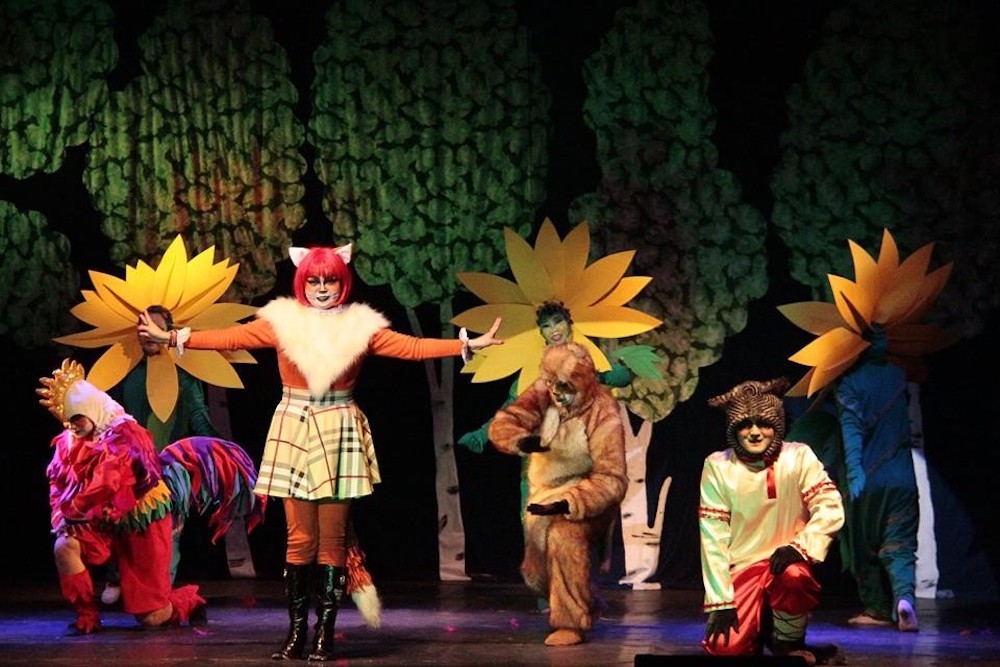 The Puppet Theatre
Although people communicate with each other through a great deal of different languages, visual languages remain an important form of communication. Maybe as a result of the development of sign language, the art of puppetry came about. What do you think? If you are in Ulaanbaatar, please visit the Puppet Theater, just 800 meters southwest of Sukhbaatar Square. You have to cross only two streets to find yourself there. In this theater, international and Mongolian puppet works are presented with masks, sticks, ropes, gloves, fingers, and shadow maneuvers. Witness young children express delight, fear, and surprise as they are absorbed in the magic of these special performances. Especially if you are with your kids in Ulaanbaatar, exploring and also enjoying foreign countries theatre with them is great way of life experience and wonderful memory of your travel. Check their schedule.
The state Academic Opera and Ballet
Ulaanbaatar was the first city in Asia to establish an opera theater. The State Academic Theater of Opera and Ballet celebrated its opening on May 18, 1963, with Pyotr Ilyich Tchaikovsky's famous opera "Eugene Onegin". It is amazing that one year later the theater staged Giacomo Puccini's opera "Madama Butterfly". The State Academic Theater of Opera and Ballet performs 22 operas and 16 ballets composed by Mongolian composers like B. Damdinsuren, S. Gonchigsumlaa, D. Luvsansharav, L. Murdorj, A. Boroldoi, E. Choidog, D. Janchiv, Ts. Natsagdorj, Kh. Bilegjargal, J. Mend-Amar, Z. Khangal, B. Sharav, A. Batdelger, and G.Purevdorj. The theater has a rich repertory of over 100 performances, which includes approximately 60 of the world's best classical operas and ballets composed by Tchaikovsky, Puccini, Verdi, Rossini, Minkus, Bizet, Mozart, and more.