How about a one day city discovery  tour in Ulaanbaatar ? If you are in UB, if you love photography, this is your moment, seize the opportunity to be great! A traditional Central Asian city,
Ulaanbaatar
, occupies 47044 hectares of land and surrounded by four sacred mountains. UB is one of the clear blue sky city in the world, with an average of 250 days a year. Founded as Urguu in the year of 1639, changed its location twenty nine times to its current state in 1778. Mongolia is well known by its nomadic lifestyle, but the capital city is now developed into a modern metropolis with numerous skyscrapers, wide streets and squares and is developing as fast as the world's major cities. Depending on the period of your stay in the city , or don't know what to do in one day, I just wanna give you a little idea by my city touring blog. I visited a several well-known places including museums, monastery and Central Square. Well, let's start our  journey, be sure to pack a camera.
UB city tour - Early morning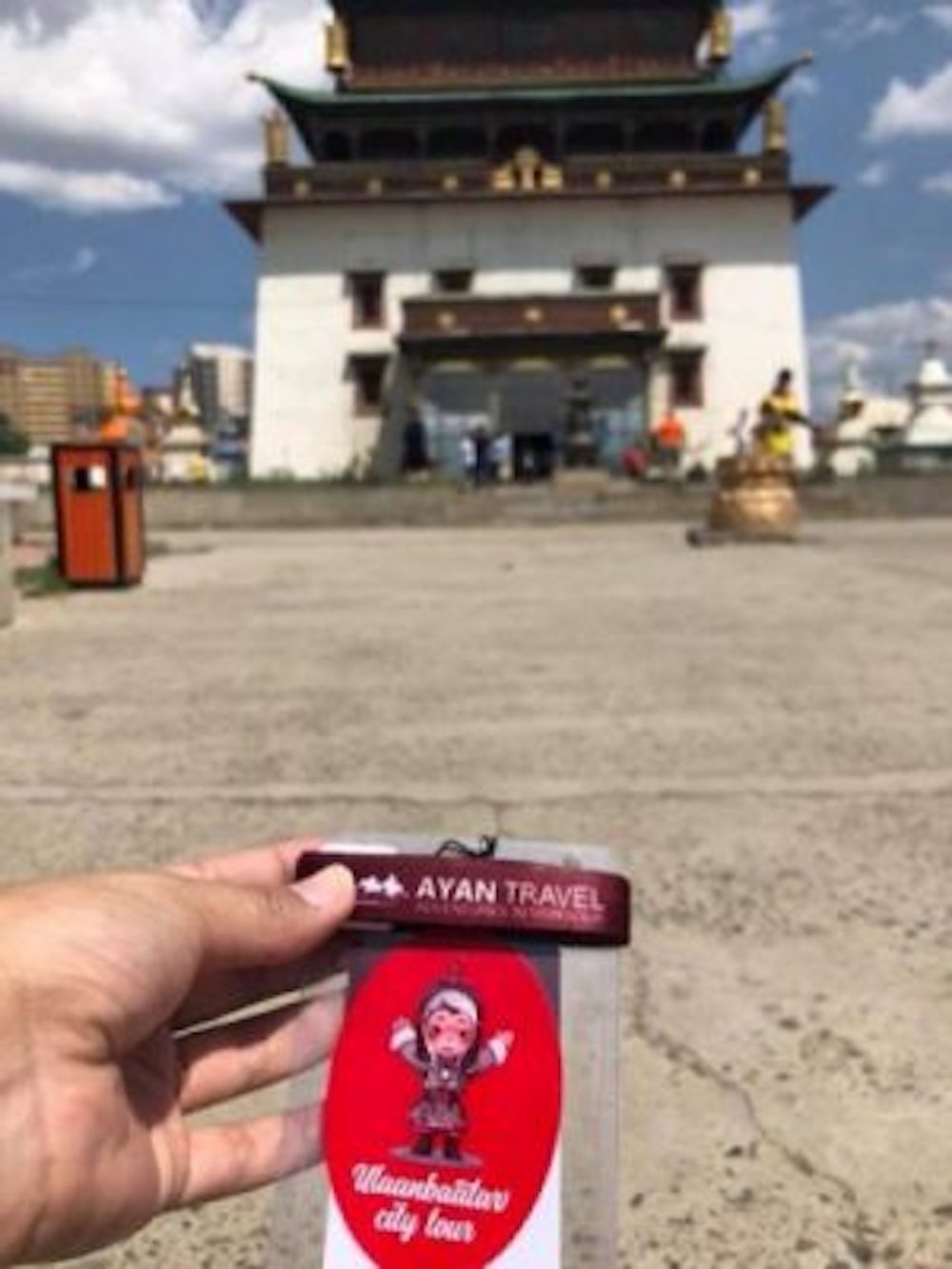 Gandan monastery
was the first stop of our photography road trip around UB with the aim of discovering gorgeous and stunning places. It is the best to visit Gandan monastery early in the morning while there have various chanting available for visitors. More than 50 percent of Mongolia's population is Buddhist religion, and there are small monasteries and temples in each region of Mongolia. Gandan Monastery was established in 1809 and was reopened in 1944 after it was closed during the communist repression. It has the tallest indoor statue of Buddha in the world which is 26.5 meter high. The statue contains 2286 precious stones, 27 tones of medical plants, 334 sutras and 2 millions of mantras. One thousand statues of God Amitabha (Ayush) surround it. However, inside the monastery, you are not allowed to take photography, you need to pay some extra charge. You can take photos outside the Buddhist monasteries and temples with eye-catching architecture. Let's continue our photo trip to the National Museum of Mongolia which is located on the West side of Central Square.
National Museum of Mongolia
was established in 1971 and sweeps visitors from the Neolithic Era right to the present day. The museum storage facility additionally holds over 50 000 historical and ethnographical objects. Exhibitions cover prehistory, pre-Mongol Empire history, Mongol Empire, Mongolia during Qing rule, ethnography and traditional life, twentieth century, Socialist Mongolia and Democratic Mongolia. It's more interesting to see the museum for traveling through the times. The Center point of Ulaanbaatar is located at the Sukhbaatar Square at 1300m above the sea level. In front of the Government House, at its centre is a seated bronze Chinggis Khaan statue. He is flanked by his descendant khans Ogodei (west), Khublai (east) and two famed Mongol soldiers Boorchi and Mukhulai.
The Statue, hero of the 1921 Revolution, Damdiny Sukhbaatar, is located center of square who is declared Mongolia's final independence from China. Bottom of the statue, his sayings written in Mongolian script. Around the Central Square, surrounded by landmarks including Cultural Palace, State Opera & Ballet Theatre, Mongolian Stock Exchange, Central Post office and new shopping malls such as Central Tower and Ulaanbaatar Gallery and some banks and restaurants. You will be enjoy the best and stunning photo spots around the Central Square.
Tips:
If you don't have any idea of where to have lunch, I highly recommended to you Modern nomads chain restaurant which is located behind of the Cultural Palace.  If you would like to enjoy traditional mongolian cuisine, it offers you wide range of international and mongolian food choices.
UB city tour- Afternoon
After lunch, you can visit Choijin Lama temple museum by your choice. This museums are not for its colorful shots but for a delightful quiet and charming place to stay.
Choijon Lama Temple Museum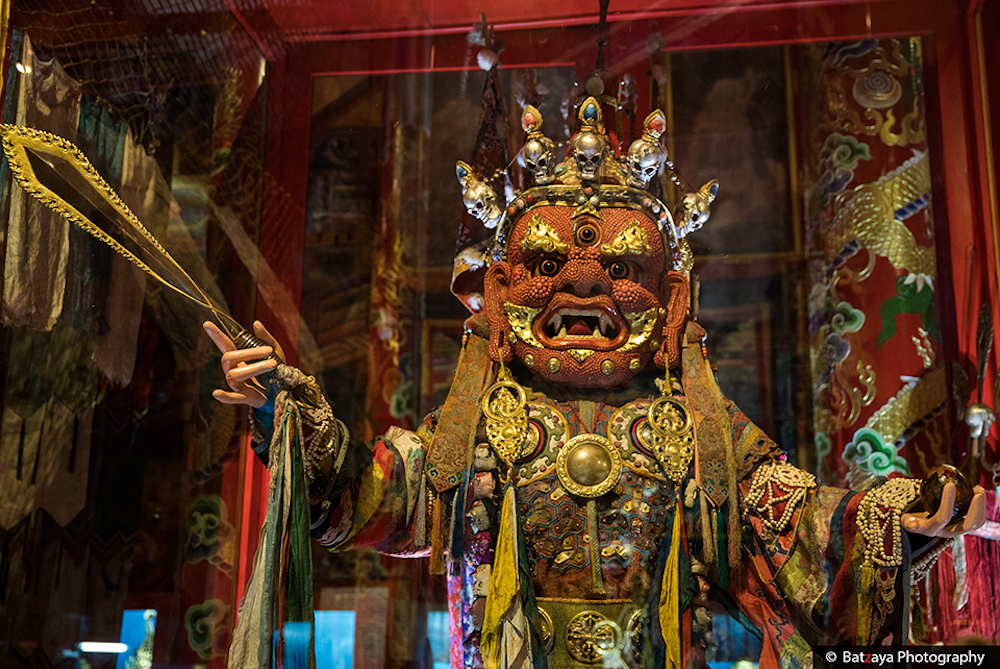 ,
is built by 300 best craftsmen in Mongolia, the Choijin Lama Temple Museum resides among tall sky skyscrapers. The temple complex has a unique calming atmosphere, wich will isolate you from busy urban life. It has several gilded bronze statues, impressive sculptures of the major Mongolian/Tibetan incarnations of Buddhist deities and a striking array of papier-mache masks used for Tsam dance ceremonies. After enjoy the museum, you can visit the Zaisan Memorial Complex for panoramic view of Ulaanbaatar city. You can gaze colorfully beaming sunsets and the lively city as it is in the palm of their hand.
The Zaisan memorial complex located in the southern part of the city which has an army memorial on its top, was built between 1971 and 1979 in honor of fallen soldiers in the Khalkh Gol battle of World War II. Downhill, to the west of Zaisan, is Buddha Park. Here, ther stands a stunning 24 meter high Buddha monument. In the evening, if you want to get an upclose, deeper feeling of Mongolian folk art, visit Tumen Ekh ensemble. It's composed of artists who perform all types of Mongolian songs, dances and contortion shows. I loved the UB but we still have to lot to see and I am looking forward to meet you our next blog.