This is our capital city Ulaanbaatar, the largest city with over one-third of the Mongolia's population lives here and is the political, cultural, industrial and transportation center. The city is situated in a valley at an elevation of about 1.310 m (about 4.300 ft.) and surrounded by four holy peaks, which make a wonderful backdrop. There are many destinations available for a tourist people as you visit such as, many historical museums, monasteries, national parks, traditional food services, shopping malls and department stores.
9 MUST SEE ATTRACTIONS IN ULAANBAATAR
1. GANDAN KHIID MONASTERY
Gandan Monastery – the largest Buddhist monastery of Mongolia, with enchanting ceremonies held every day. It has the statue of Bodhisattva Avalokitesvara, the tallest indoor statue of Buddha in the world, which is 26.5 meter high. The statue contains 2286 precious stones, 27 tons of medicinal plants, 334 sutras and 2 millions of mantras.
Location: Ulaanbaatar city, Bayangol district, 16th khoroo
Phone: (+976) 11 + 360354
Website: https://www.gandan.mn/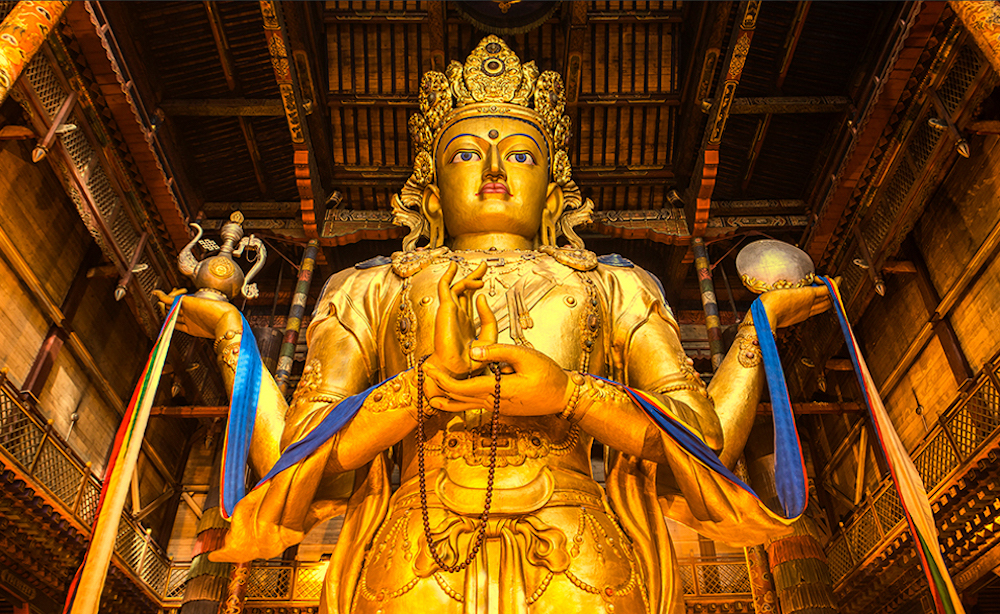 2. SUKHBAATAR SQUARE
Sukhbaatar Square – the central square features an equestrian statue of Damdin Sükhbaatar, who has declared Mongolia's independence from China, in July 1921. In the north from the statue, the large grey building is State Parliament House, to the north east is the tall, modern palace of Culture, a useful landmark containing the art gallery and several other cultural institutions. At the south-east corner is the State Opera & Ballet theatre. All of cultural and political events and festivals are held on this central square.
Wikipedia:https://en.wikipedia.org/wiki/S%C3%BCkhbaatar_Square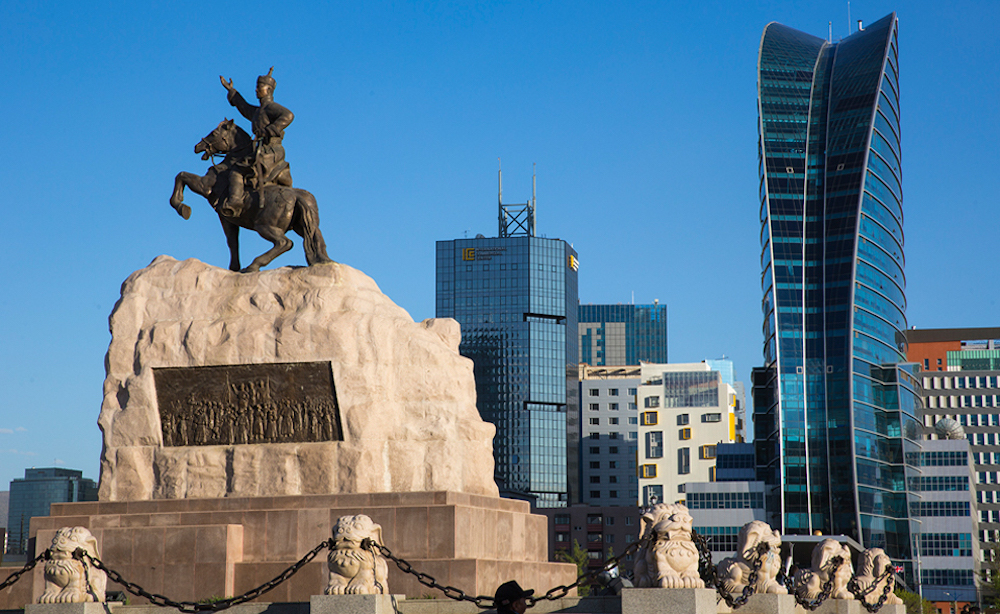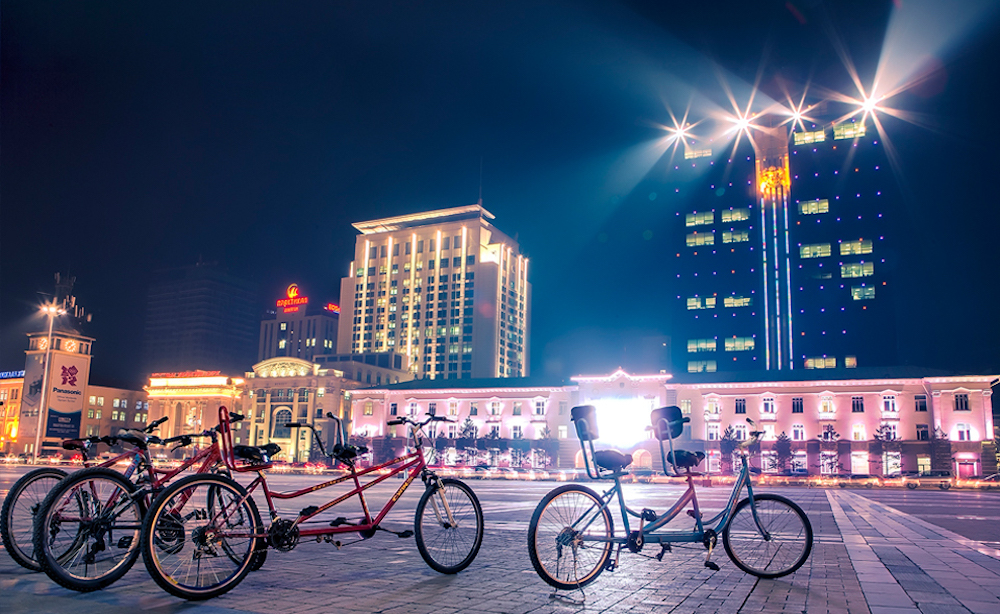 3. CHINGGIS KHAAN STATUE
Chinggis Khaan Statue – situated in front side of the Parliament House on the central square. This is the statue of sits Chinggis Khaan and a large colonnade monuments to Ogodei Khaan and Khubilai Khaan, completed in 2006 in time for the 800th anniversary of Chinggis Khaan's coronation.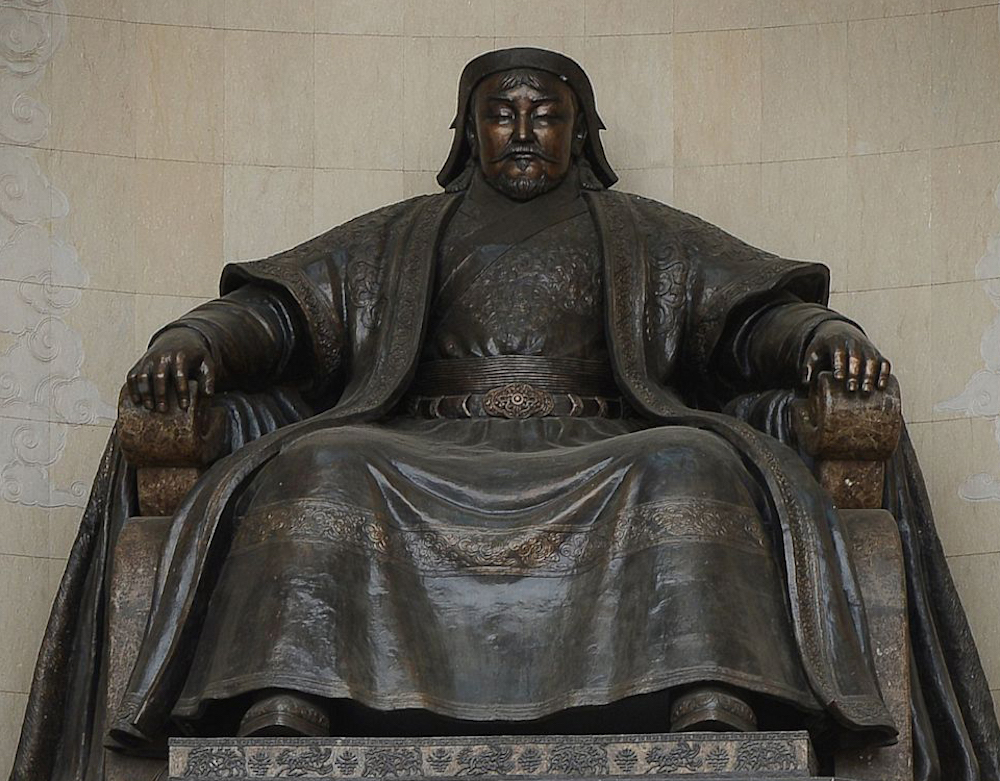 4. BOGD KHAAN WINTER PALACE MUSEUM
Bogd Khaan Winter Palace Museum – built between 1893 and 1903, this palace is where Mongolia's eighth Living Buddha, and last king, Jebtzun Damba Khutagt (often called the Bogd Khan), lived for 20 years. There are six temples in the grounds; each now contains Buddhist artwork, including sculpture and THANGKA.
Location: Khan Uul District 15th khoroo Ulaanbaatar-17032
Phone: (+976) 11+342195, 70001926
Website: http://www.bogdkhaanpalace.mn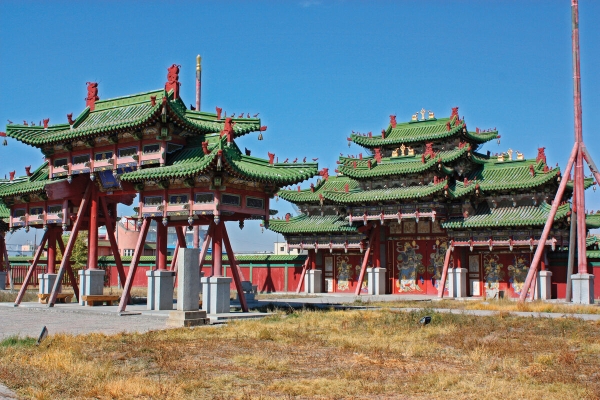 5. CHOIJIN LAMA MONASTERY
The Choijin Lama Monastery – the Choijin Lama Monastery is composed of four temples that were built in the years 1904 to 1908 by the Eighth Bogd Khaan and dedicated to his brother the Choijin Lama Luvsanhaidav. The temple complex is now a museum preserving the elaborately decorated interiors and containing a rich collection of other Mongolian Buddhist sculpture and painting.
Wikipedia:https://en.wikipedia.org/wiki/Choijin_Lama_Temple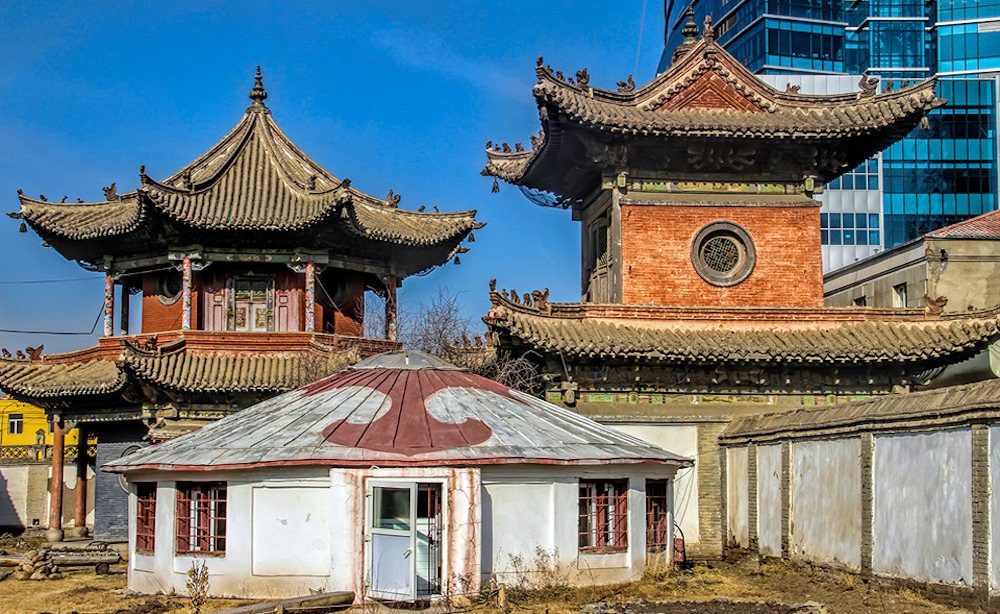 6. NATIONAL MUSEUM OF MONGOLIA
National Museum of Mongolia – established in 1971. The museum sweeps visitors from the Neolithic era right to the present day and storage facility additionally holds over 50000 historical and ethnographical objects. Exhibitions cover prehistory, pre-Mongolia Empire history, Mongol Empire, Mongolia during Qing rule, ethnography and traditional life and twentieth century history.
Wikipedia: https://en.wikipedia.org/wiki/National_Museum_of_Mongolia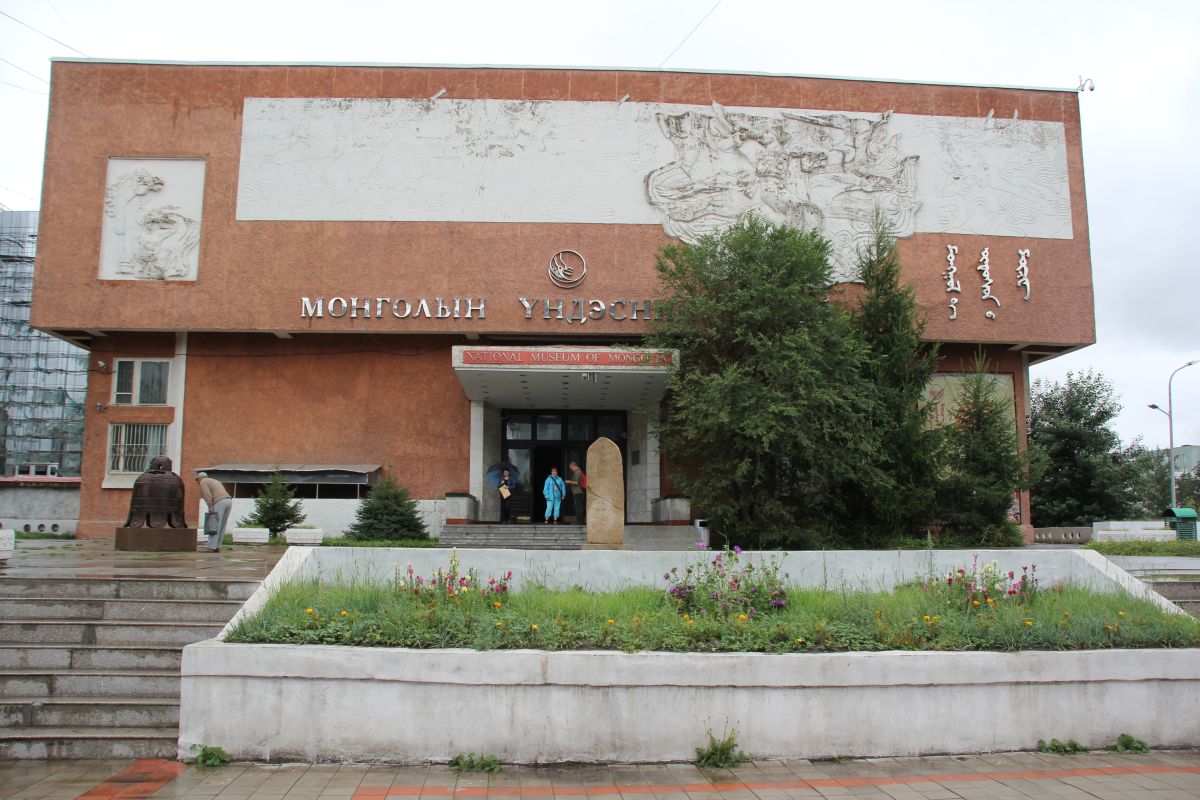 7. MONGOLIAN NATIONAL LIBRARY
Mongolian National Library located in Ulaanbaatar, is the largest and oldest surviving library in Mongolia. It houses over 3 million books and publications, 1 million of which are rare and valuable books, sutras and manuscripts, including the world's only surviving copies of many ancient Buddhist texts.The National Library of Mongolia possesses the great Buddhist canonic texts such as Kanjur consisting of 108 volumes, which contains holy didactical words told by Great Buddha himself and Tanjur, an explanatory dictionary to the Buddha teachings, which consists of 226 volumes. Kanjur means "Concise Orders" in Mongolian translation and it contains over 1260 title books belonging to the ancient Indian Tripitaka or three knowledge areas such as Sutraya, Vinaya, Abhidarma concepts which represent listening, meditating and creating abilities. In addition, the National Library of Mongolia possesses over 10 different kind of Kanjur editions such as Nartan Edition Kanjur /102 volumes/, Derge Edition Kanjur /100 volumes/, Khuree Printed Kanjur /105 volumes/, Mongolian Dust Paint Printed Kanjur /108 volumes/, Mongolian Manuscript Kanjur /76 volumes/, Golden Kanjur /101 volumes/, Silver Kanjur /102 volumes/, and Kanjur written with 9 precious stones which is the only copy in the world. This museum is open to public.
Wikipedia:https://en.wikipedia.org/wiki/National_Library_of_Mongolia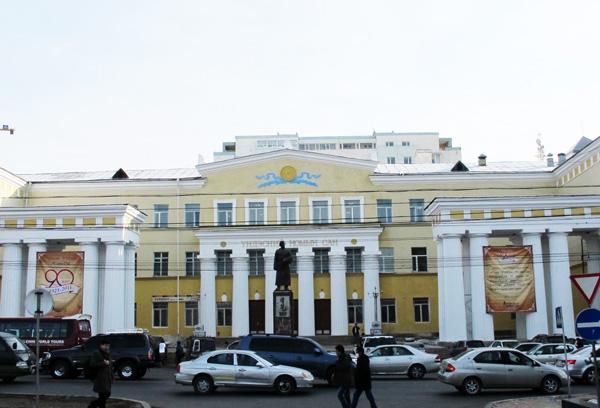 8. TRADITIONAL FOLKLORE CONCERT
Traditional Folklore Concert – you may explore the traditional music and culture scene of folklore concert for visiting to two kinds of theatre as well as Tumen Ekh Theatre and National Dance and Musical Grand Theatre. Both theatre, feature folk and traditional music, song, dance and contortion, and those interested in the colourful art and culture of the land of the blue sky.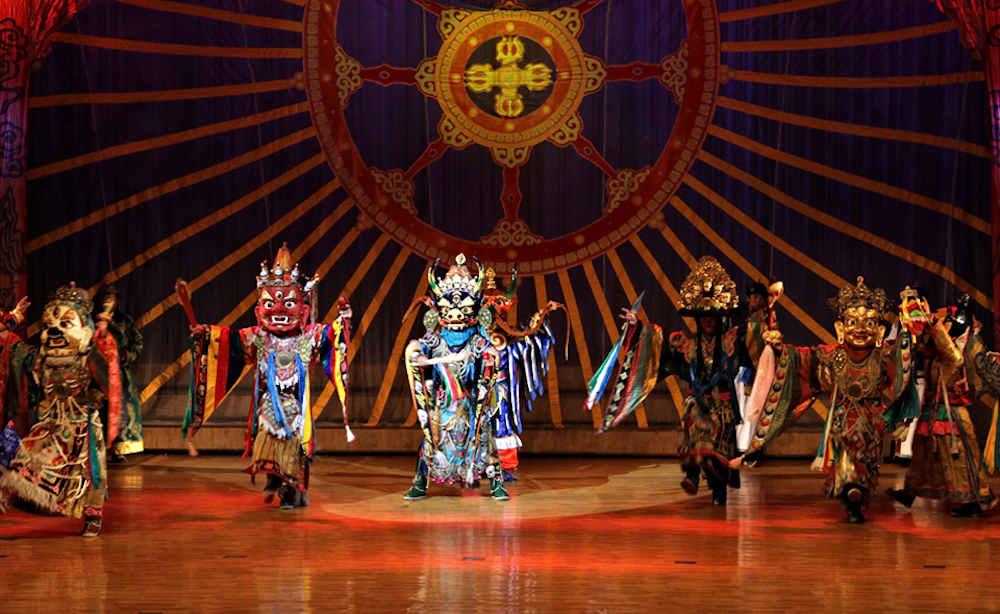 9. ZAISAN MEMORIAL HILL
Zaisan Memorial Hill – a memorial communist-era monument in the southern area of Ulaanbaatar city, that honors Soviet soldiers killed in World War II. From the bottom of the hill, visitors make the climb of more than five hundred steps. In 2003, a tank memorial, featuring a Soviet tank from a brigade paid for by the Mongolian people, was moved to the foot of the hill. This is the best place for panoramic view of the capital city.
Wikipedia: https://en.wikipedia.org/wiki/Zaisan_Memorial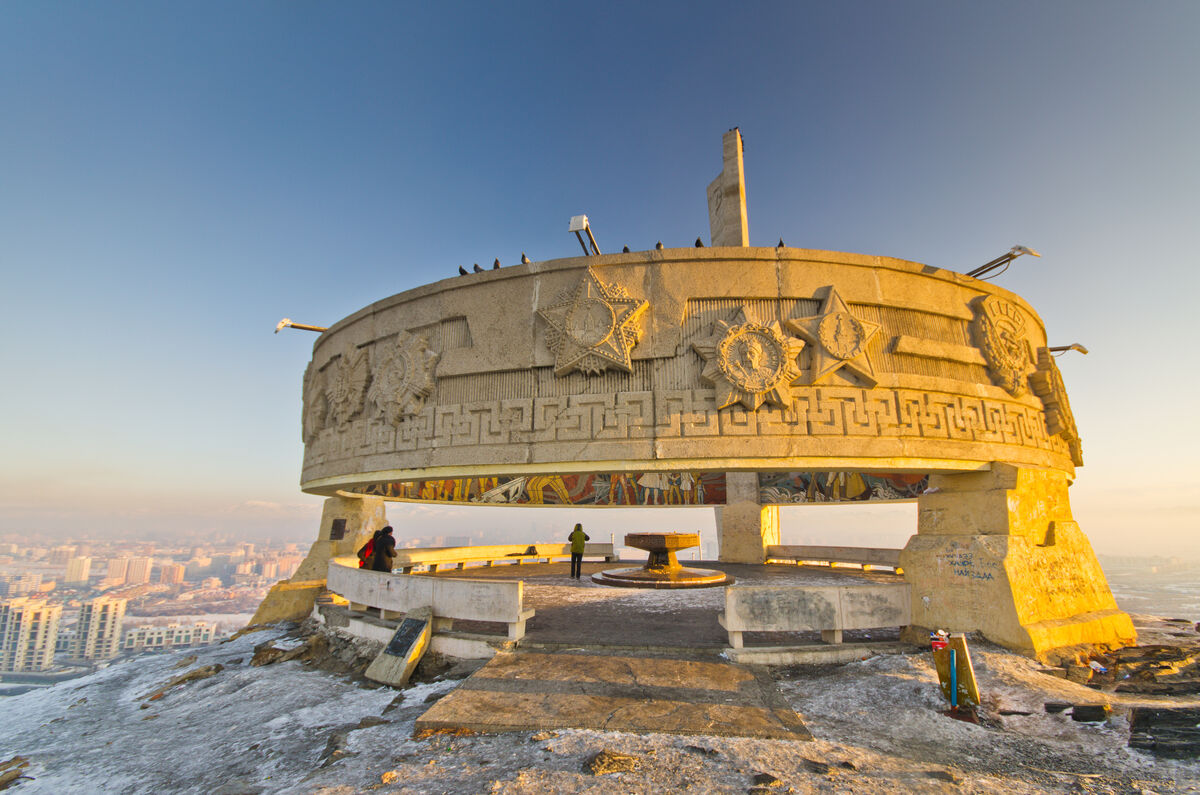 10. THE STATE ACADEMIC DRAMA THEATER
The State Academic Drama Theater, with its red-colored building of classical design, and the pink building of the
State Academic Theater of Opera and Ballet are located close to each other, not far from Ulaanbaatar's central square. Famous Mongolian plays are performed on the stages of these theaters, along with world renowned operas, ballets, and plays performed by famous Mongolian and foreign artists. The repertoires of the two theaters, as well as the appearances by leading artists who perform at the world's largest classical competitions and festivals, are evidence that Mongolia's classical art has reached a high level today.
web site: https://www.drama.mn/schedule